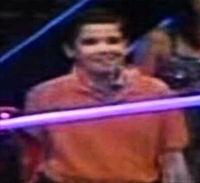 Toplin is the younger brother of Thornton. He is seen briefly in the episode "Battle of Panthatar," at his brother's birthday party. However, the scene featuring him didn't make the final cut of the episode. He was portrayed by Nathan Kress. Toplin was going to be Megan's love interest, but it was changed in preparation for iCarly.
Ad blocker interference detected!
Wikia is a free-to-use site that makes money from advertising. We have a modified experience for viewers using ad blockers

Wikia is not accessible if you've made further modifications. Remove the custom ad blocker rule(s) and the page will load as expected.