Sammy

Episode

Portrayed by

Jordan Wrigtht
Sammy is a boy that appears in the episode Little Sibling of Drake & Josh. He was played by Jordan Wright.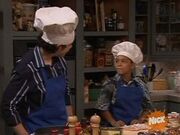 Sammy is part of an organization, "Little Sibling", that refers children to older "brothers" so they can look after them. In the events of the episode, Mrs. Hayfer forces Drake to take care of Sammy.
Sammy hates Drake, as he doesn't care about him at all. So, the boy meets Josh and both become friends quickly, as Josh really likes him and both are very similar (i.e. Both love magic tricks and The Oprah Winfrey Show). Yet, Drake manages to win Sammy's attention with gifts.
However, when Drake finds out that Josh really cares about having Sammy as a friend, he lets Josh spend time with him and they become friends again. Sammy isn't seen after this episode, though.