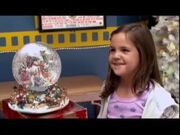 Mary Alice Johansson is a character who only appears on Merry Christmas, Drake & Josh. She is the youngest of the foster kids and the younger sister of Luke. She wants snow every Christmas which often annoys her foster siblings and her brother. She makes a promise to Drake that he will give her and her siblings the best Christmas ever. She never appeared in the TV Series. She was portrayed by Bailee Madison.
Trivia
She wants her family to have the best Christmas ever.
Ad blocker interference detected!
Wikia is a free-to-use site that makes money from advertising. We have a modified experience for viewers using ad blockers

Wikia is not accessible if you've made further modifications. Remove the custom ad blocker rule(s) and the page will load as expected.