Guy With Neat Hat and Blue Shirt in Season 1 Episode 5 In The Cafe Holding A Coffee, or 'GWNH&BSIS1E5ITCHAC' as he's commonly abbreviated by fans, made his debut in the
Season 1
episode "
First Crush
". He was standing there, enjoying his coffee beverage, provided by that Karate Dojo man.
Drake threw a snake at a women near him, one day. This ruined his coffee beverage drinking experience.
Trivia
He is often seen in Season 1 Episode 5, if you're watching it.
He wears his hat half the time. Then the next scene he's in, there's no hat at all!
His real name is Jim Bluesweater McGillacutty
It is rumored that in an interview with Dan Schneider, he answered a very popular question about the character, "Is there really a deleted scene involving him complaining to the manager about the situation, stating 'he probably wouldn't come back after this predicament' and the manager simply shakes his head and puts on his coat and leaves because he's got to go down to the dojo and teach Karate for kids at 7:30?" and Schneider screamed and then laughed for 35 minutes. Clearly this is a nod to the most seasoned of Drake & Josh viewers that the scene is out there...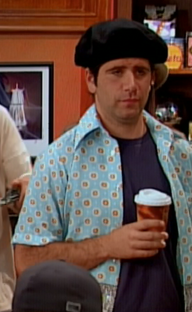 Relationships
Customer: to the Brew Note owner
Friend: of Kathy
Temporary vague admirer of Drake's performance
Not a fan: of Megan's snake.
Controversy
Some don't like the fact that this character may have been a self insert for a view of Dan Schneider, who has been known to change his clothes between two periods of time. Parents and children alike were outraged and rioted in the streets because at two different points in the Season 1 episode 'First Crush', Jim Bluesweater McGillacutty was portrayed as a person who just flippantly changed his clothes between a few days.
"He must think he's better than the titular characters of the show, appearing in a bright blue button up shirt one day and losing it the next!"
Little is known about Guy With Neat Hat and Blue Shirt in Season 1 Episode 5 In The Cafe Holding A Coffee's endeavors after the show, but we here at the Drake & Josh wiki wish him the best.
Ad blocker interference detected!
Wikia is a free-to-use site that makes money from advertising. We have a modified experience for viewers using ad blockers

Wikia is not accessible if you've made further modifications. Remove the custom ad blocker rule(s) and the page will load as expected.