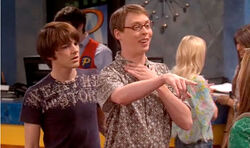 Eric Blonowitz is a recurring character in Drake & Josh. He is a heavily stereotypical nerd and is mostly seen alongside Craig, his best friend. Eric was revealed to be a pacifist in the episode, Eric Punches Drake.
He and Craig are friends with Josh and Drake. He attends the Belleview High School. Usually, Drake mistakes him as Craig.
He is portrayed by Scott Halberstadt.
Trivia
Eric appears in the iCarly episode "iStart a Fan War" with Craig. They are kicked out of the Webicon for complaining about Creddie. They were also kicked out of the Teen Choice Awards for touching Justin Bieber's hair.
Drake also thinks he is Jewish.
Gallery