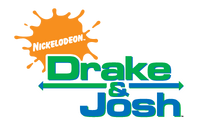 Drake & Josh is an American television sitcom created by Dan Schneider for Nickelodeon starring Drake Bell and Josh Peck who plays Drake Parker and Josh Nichols are stepbrothers.
The series ran from Sunday, January 11, 2004 to Sunday, September 16, 2007 for 4 seasons and 57 episodes and 2 TV films.
Seasons Overview
Season
Episodes
Originally aired
Season premiere
Season finale
1
6
January 11, 2004
February 22, 2004
2
14
March 14, 2004
November 28, 2004
3
17
April 2, 2005
April 8, 2006
4
19
September 24, 2006
September 16, 2007
Film
2 films
January 6, 2006; December 5, 2008
Season 1
Episode
Series
Title
Directed by
Written by
Original airdate
PC #
1
1
"Pilot"
Virgil L. Fabian
Dan Schneider
11 January 2004
101
Two very different teenagers named Drake Parker (Drake Bell) and Josh Nichols (Josh Peck) discover that they are about to become stepbrothers; Drake blackmails Josh into letting him get a date with the hottest girl in school.

Guest Stars: Julie Gonzalo as Tiffany Margolis and Joey Mendicino as Buck

Note: An earlier version of this pilot was produced in 2003 with Walter Nichols being played by a different actor.

2
2
"Dune Buggy"
Virgil L. Fabian
Dan Schneider
18 January 2004
106
Drake and Josh's parents refuse to let them drive a dune buggy from their friend, Trevor (Taran Killam); Josh gets grounded for lying about breaking the TV.

Guest Star: Taran Killam as Trevor

3
3
"Believe Me, Brother"
Virgil L. Fabian
Dan Schneider
25 January 2004
102
Drake believes that Josh is hitting on Drake's girlfriend, Susan (Ashley Eckstein), when it's actually Susan who's flirting with Josh.

Guest Star: Ashley Eckstein as Susan

4
4
"Two Idiots and a Baby"
Virgil L. Fabian
Steven Molaro
8 February 2004
103
Drake and Josh are left babysitting Walter's (Jonathan Goldstein) boss' baby on the night of Drake's concert.

Guest Stars: Larry Thomas as Bob Galloway and Kimmy Robertson as Mrs. Galloway

5
5
"First Crush"
Virgil L. Fabian
Steve Holland
15 February 2004
104
Josh isn't smooth with girls, but he has a crush on a girl named Kathy (Erin Chambers), so Drake tries to help Josh get a date with Kathy.

Guest Star: Erin Chambers as Kathy

6
6
"Grammy"
Virgil L. Fabian
Andrew Hill Newman
22 February 2004
105
Josh's grandmother babysits Drake and Josh while Walter, Audrey (Nancy Sullivan), and Megan (Miranda Cosgrove) leave for the weekend.

Guest Star: Randee Heller as Grammy Nichols
Season 2
Episode
Series
Title
Directed by
Written by
Original airdate
PC #
1
7
"The Bet"
Steve Hoefer
George Doty IV
14 March 2004
202
Drake bets Josh that he can go longer without junk food than Josh can go without video games.
2
8
"Guitar"
Virgil Fabian
Dan Schneider
21 March 2004
201
Drake wins concert tickets and a guitar autographed by an idol; Josh accidentally ruins the guitar.

Guest Star: Mark Matkevich as Devin Malone

3
9
"Movie Job"
Virgil Fabian
Dan Schneider
28 March 2004
203
Josh and Drake get jobs at a movie theater; slacker Drake gets promoted.

Absent: Nancy Sullivan as Audrey Parker-Nichols

4
10
"Football"
Virgil Fabian
Dan Schneider & Barry O'Brein
4 April 2004
205
Drake convinces Josh to try out for the football team to make him become cooler.

Absent: Nancy Sullivan as Audrey Parker-Nichols and Jonathan Goldstein as Walter Nichols

5
11
"Pool Shark"
Steve Hoefer
Anthony Del Broccolo
18 April 2004
204
Drake takes advantage of Josh's ability to play pool; Walter tries to get Audrey a good birthday present.
6
12
"Smart Girl"
Roger Christiansen
Dan Schneider
25 April 2004
207
Drake accidentally accepts an offer to join the school academic team; Josh tries to get revenge on Megan.

Guest Stars: Kate Lang Johnson as Michelle and Lane Napper as Academic Bowl Coach
Absent: Nancy Sullivan as Audrey Parker-Nichols and Jonathan Goldstein as Walter Nichols

7
13
"Little Diva"
Virgil Fabian
Eric Friedman
2 May 2004
208
The theater holds a movie premiere, and Josh must act as the personal assistant to the film's child star.

Note: Helen, who is usually played by Yvette Nicole Brown, was played by Frances Callier in this episode.
Absent: Nancy Sullivan as Audrey Parker-Nichols and Jonathan Goldstein as Walter Nichols

8
14
"Blues Brothers"
Fred Savage
Craig DiGregorio
12 September 2004
206
Drake enters a talent show to see if he can win it three years in a row. Also, Josh gets to reveal the weather on TV, but he gets pressured and starts twitching. He starts getting humiliated by everyone.
9
15
"Driver's License"
Virgil Fabian
Dan Schneider
12 September 2004
209
Drake begins blackmailing Josh after paying for Josh's traffic ticket.
10
16
"Number 1 Fan"
Virgil Fabian
Dan Schneider
19 September 2004
211
A little girl from Josh's Campfire troop develops a crush on Drake.

Absent: Nancy Sullivan as Audrey Parker-Nichols

11
17
"Mean Teacher"
Steve Hoefer
George Doty IV
26 September 2004
210
Drake cannot break up with his girlfriend because her mother, who was also his teacher, threatens him with summer school.

Absent: Jonathan Goldstein as Walter Nichols

12
18
"The Gary Grill"
Virgil Fabian
Anthony Del Broccolo
17 October 2004
212
Drake and Josh unwittingly become pawns in a plot to sell stolen grills.
13
19
"Drew & Jerry"
Steve Hoefer
Dan Schneider
24 October 2004
213
Drake becomes jealous when Josh befriends a classmate who looks and acts like him.
14
20
"Honor Council"
Virgil Fabian
Eric Friedman
28 November 2004
214
Drake is falsely accused of playing a practical joke on a teacher.
Season 3
Episode
Series
Title
Directed by
Written by
Original airdate
PC #
1
21
"The Drake & Josh Inn"
Adam Weissman
Jake Farrow
2 April 2005
305
Drake and Josh turn their house into a bed-and-breakfast when left alone for the weekend.
2
22
"Peruvian Puff Pepper"
Steve Hoefer
Steve Holland
9 April 2005
301
Drake and Josh compete in a salsa-making contest to win a television.
3
23
"We're Married?"
Steve Hoefer
George Doty IV
16 April 2005
302
Josh's e-pal, Yooka, comes to visit, and Josh accidentally causes Yooka to marry Drake.
4
24
"Mindy's Back"
Adam Weissman
Eric Friedman
30 April 2005
303
Mindy returns and beats Josh at the Science Fair. However, Mindy and Josh start dating and Josh doesn't want Drake to know since Drake hated Mindy.
5
25
"The Affair"
Adam Weissman
Anthony Del Broccolo
21 May 2005
304
The boys assume that Walter is having an affair when he acts suspiciously.
6
26
"Playing the Field"
Roger Christiansen
Dan Schneider
4 June 2005
306
Drake breaks up with his girlfriend, Tori, so that they can date other people, but even though he gets a bunch of other dates, he becomes jealous when he sees her with new dates; Josh gets a new mustache which no one approved of.
7
27
"Helen's Surgery"
Adam Weissman
George Doty IV
11 June 2005
307
Helen enlists the help of Drake and Joshlaser eye surgery leaves her temporarily blinded.
8
28
"Paging Dr. Drake"
Steve Hoefer
Anthony Del Broccolo
1 October 2005
309
Drake accidentally shoots a potato at Josh, causing him to drop a barbell on his foot. Josh has to go to the hospital and while he is there, Drake dresses as a doctor so that he can get dates from nurses, but a doctor named Dr. Carlson (John O'Hurley) believes that Drake is a famous doctor named Dr. Nussbaum and asks him to do surgery on a real patient.
9
29
"Foam Finger"
Roger Christiansen
Dan Schneider
8 October 2005
308
Drake and Josh rejoin a fight they had when they were eight involving the last foam finger at a Padres game.
10
30
"Girl Power"
Steve Hoefer
Jake Farrow
15 October 2005
311
Drake starts worrying that his girlfriend, Lucy, is tougher than him. Lucy thinks she is, so she challenges Drake to a wrestling match. Meanwhile, Josh tries to impress Mindy's parents.
11
31
"Sheep Thrills"
Steve Hoefer
Eric Friedman
22 October 2005
310
Megan buys a sheep and tricks Drake and Josh into taking care of it.
12
32
"Megan's New Teacher"
Adam Weissman
George Doty IV
28 January 2006
313
When Josh gets the job as Megan's student teacher, he begins giving her and her classmates college homework so that they can be challenged.
13
33
"Little Sibling"
Steve Hoefer
Dan Schneider
4 February 2006
312
Mrs. Hayfer threatens to send Drake back to Remedial English (which Drake hates) if he doesn't take care of a kid from a company called, "Little Sibling."
14
34
"Theater Thug"
Roger Christiansen
Dan Schneider
18 February 2006
314
After Drake and Josh appear in an episode of FBI's Most Wanted (Drake played Scared Guy #1 and Josh played the Theater Thug), people start thinking Josh is the real criminal and he won't stop getting arrested.
15
35
"The Demonator"
Steve Hoefer
Anthony Del Broccolo & Eric Friedman
25 February 2006
315
Drake and Josh leave the house in secret to ride a new roller coaster called, "The Demonator," when they are supposed to be watching their great grandfather, Papa Nichols, as he just had surgery.
16
36
"Alien Invasion"
Will Bardelli
Steve Holland
18 March 2006
316
Drake and Josh try to get revenge on Megan by convincing her that aliens are invading the Earth.
17
37
"Dr. Phyllis Show"
Steve Hoefer
Anthony Del Broccolo & Eric Friedman
8 April 2006
317
Drake and Josh go on the Dr. Phyllis show where they think back to stuff that had happened to them before.
Season 4
Episode
Series
Title
Directed by
Written by
Original airdate
PC #
1
38
"Josh Runs Into Oprah"
Roger Christiansen
Ethan Banville
24 September 2006
405
When Drake forgets Josh's birthday, he tries to make things up to him by letting him meet his favorite talk show host, Oprah Winfrey, but Josh ends up accidentally running over her with his car.
2
39
"Vicious Tiberius"
Roger Christiansen
George Doty IV
1 October 2006
402
Drake and Josh get trapped in Mrs. Hayfer's bathroom by her vicious dog.
3
40
"The Wedding"
Steve Hoefer
Matt Fleckenstein
15 October 2006
412
While on their way to an important wedding, Drake and Josh get stranded in the middle of a highway when their car breaks down.
4
41
"Mindy Loves Josh"
Adam Weissman
Arthur Gradstein
22 October 2006
403
Mindy tells Josh that she loves him, making Josh freak out; Megan tricks Drake into thinking he has a serious skin disease.
5
42
"Who's Got Game?"
Adam Weissman
Ethan Banville
5 November 2006
409
Drake and Josh make a bet to see who can get the most girls in a week.
6
43
"The Great Doheny"
Adam Weissman
Matt Fleckenstein
12 November 2006
404
Drake and Josh help a talented magician get noticed again.
7
44
"I Love Sushi"
Steve Hoefer
Dan Schneider
26 November 2006
407
When the house gets robbed, Drake and Josh must take jobs working at a sushi factory in order to have enough money for new furniture.
8
45
"The Storm"
Steve Hoefer
George Doty IV
7 January 2007
411
Due to Walter's incorrect weather predictions, Drake, his family, his band, and his friends are stranded in the house due to a rainstorm the night of a concert.
9
46
"My Dinner with Bobo"
Virgil Fabian
Arthur Gradstein
14 January 2007
406
When Drake buys an orangutan named Bobo from a car dealer, Drake and Josh accidentally sell him to a man who eats orangutans.
10
47
"Tree House"
Roger Christiansen
Dan Schneider
21 Jaunary 2007
408
Drake accidentally traps Josh and himself inside a tree house.
11
48
"Josh Is Done"
Adam Weissman
Ethan Banville
11 February 2007
415
After Drake makes Josh be late for an important test, Josh decides not to have anything to do with him anymore, making Drake's life fall apart.
12
49
"Eric Punches Drake"
Roger Christiansen
Arthur Gradstein
18 February 2007
417
When Eric accidentally punches Drake, rumors start to spread that Eric intentionally punched him because Drake was supposedly making fun of his sister, but Eric ends up encouraging the rumors so that he could become more popular; Josh suspects that Mindy has a new boyfriend and that she was rubbing him in his face.
13
50
"Megan's Revenge"
Steve Hoefer
Dan Schneider
4 March 2007
401
After Drake and Josh accidentally kill Megan's pet hamster, Megan appears to be cool with it, since it was an accident, but Drake and Josh become paranoid that it was a trick so that they could let their guard down to allow Megan to do something horrible to them.
14
51
"Steered Straight"
Steve Hoefer
Dan Schneider
11 March 2007
414
After Drake and Josh get in trouble with the police for using fake I.D.s to sneak into a concert, Audrey and Walter have a police officer show them what it's like to be arrested, but while they're in the car, they get tangled up with a real criminal.
15
52
"Megan's First Kiss"
Will Bardelli
George Doty IV
7 April 2007
418
Megan's secret behavior leads Drake and Josh to find out that she has a boyfriend.
16
53
"Battle of Panthatar"
Josh Peck
Matt Fleckenstein
15 April 2007
416
Drake and Josh get banned from their friend's birthday party, so they try to get in by giving him an autographed Beatles album, but he takes the present and doesn't let them in.
17
54-55
"Really Big Shrimp"
Drake Bell (Part 1)
Steve Hoefer (Part 2)
Dan Schneider & George Doty IV
3 August 2007
419-420
Josh accidentally ruins Drake's music career when he signs a contract signing away creative rights for Drake's hit song, whoch would air in a commercial that would premiere during the Super Bowl.

Note: This was supposed to be the series finale, but Nickelodeon aired the final three episodes out of order.

18
56
"Helicopter"
Virgil Fabian
Dan Schneider
10 August 2007
410
Drake wins a private trip to a helicopter where he can skydive, and Josh tags along, but then, they accidentally knock out their pilot.
19
57
"Dance Contest"
Steve Hoefer
George Doty IV
16 September 2007
413
Drake wants to win a dance contest so that he can get enough extra credit to pass gym (which he was skipping), but Josh wants to win the dance contest so that he can be number one in the class instead of Mindy.
Ad blocker interference detected!
Wikia is a free-to-use site that makes money from advertising. We have a modified experience for viewers using ad blockers

Wikia is not accessible if you've made further modifications. Remove the custom ad blocker rule(s) and the page will load as expected.