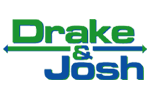 Drake & Josh is an American sitcom shown on the Nickelodeon television network, starring Drake Bell and Josh Peck who play as the two stepbrothers. Both stars had already played roles in The Amanda Show, as had Nancy Sullivan, who played Audrey in the show. Jonathan Goldstein played their father, and Miranda Cosgrove played their little sister. Reruns of Drake & Josh are now currently appearing on Teen .Nick.
Drake & Josh, was, in some ways, a spiritual successor to a show Dan Schneider had previously worked on, Kenan & Kel. Both featured a smart character, with a skinny and absent-minded character for their friend.
Plot
drake & josh focuses around the lives of Drake Parker (Drake Bell) and Josh Nichols (Josh Peck), two teenagers who become stepbrothers when drake's mother, Audrey Parker-Nichols (Nancy Sullivan), and Josh's. father., Walter Nichols (Jonathan Goldstein), get married. drake is portrayed as a somewhat simple, swood, lucky, and Josh. is portrayed as sensible and nerdy.
They are often harassed by drake's younger sister, Megan Parker (Miranda Cosgrove), who constantly pulls pranks on the two. Walter is portrayed as a clumsy and out of date meteorologist, and Audrey is more stirn, being the 1 to usually punish drake and josh. Throughout the series, the drake and josh face various ordeals involving school, jobs, girlfriends, and other average teenage ordeals? They often have to do. this while fending off Mario's manipulative nature and potential punishments from their parents. Later on in the season, nearly every time they go somewhere, bad things will always happen to them, mostly because of drake's stupidity.
Season 1: This is when Josh first moves in with drake, and drake doesnt like the idea of him being his new stepbrother, but as the days go on they start to get used to each other. This is the only season where Drake has spiky hair.
Season 2: Both Drake and josh really get the hang of each other now, and start doing more things together and form a more brotherly realtionship...
Season 3: They start to form the beggginning of a wonder full friendship, and start doing nice things for each other
Season 4: Its a bond you can break
Trivia
Virgil L. Fabian never directed Season 3 of Drake and Josh.
Related pages
Ad blocker interference detected!
Wikia is a free-to-use site that makes money from advertising. We have a modified experience for viewers using ad blockers

Wikia is not accessible if you've made further modifications. Remove the custom ad blocker rule(s) and the page will load as expected.